Enhanced Surveillance
Fully Autonomous Drone For Safety And Security

24/7 PROTECTION
Autonomous drones support many deployment scenarios in daylight as well as at night. Systems are able to carry out quick situational assessments into designated site areas. When a security breach is detected, drones are automatically activated to assess the situation. They can also be used for scheduled routine patrols or one-time operations all around the site.
QUICK ACTION
Faster than any human patrol, autonomous drones provide real-time images and allow a quick situation understanding. This means a considerable time saving for security forces for whom the time to act is running out.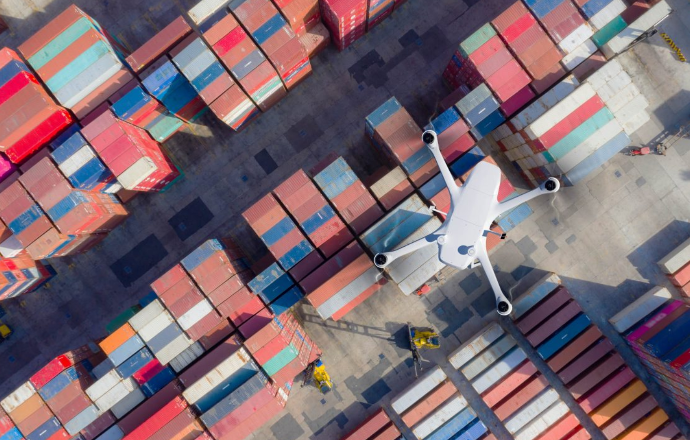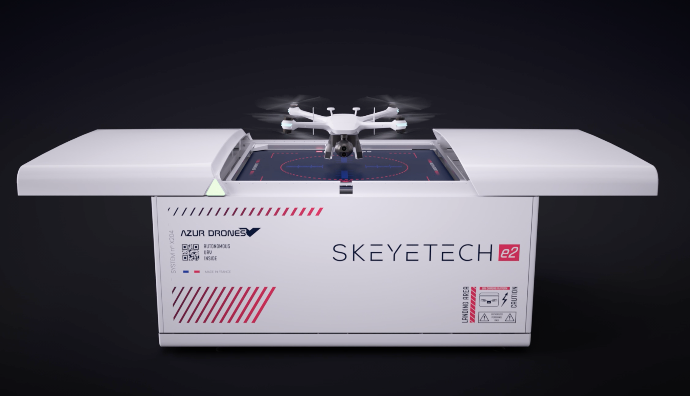 ENHANCED SURVEILLANCE
Autonomous drones are directly integrated into the existing security network to strengthen it. They supplement conventional surveillance solutions such as camera networks by providing an overview of monitored areas, where traditional cameras are limited by blind spots. Moving drones have the added benefit to be more difficult to neutralize than surveillance camera systems.
ACCESS TO RESTRICTED AREAS
Autonomous drones may fly in restricted environments while
reducing at the same time staff exposition to workplace accidents.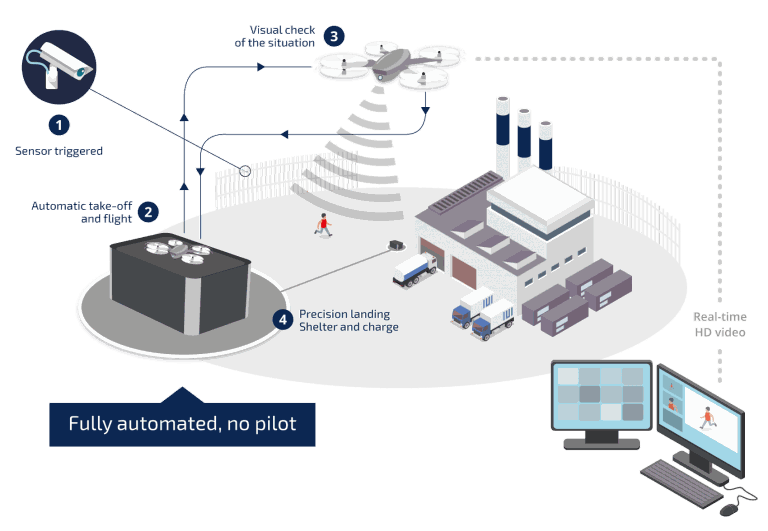 Skeyetech Presentation
Skeyetech is an innovative drone solution designed to strengthen security over sensitive sites. Fully autonomous, it provides around-the-clock service and security, without human intervention. This system can be connected to any security network to provide real-time HD video to the security HQ. It allows situational assessments in a matter of seconds, without jeopardizing operators' safety.

Security drones at your fingertips
Skeyetech systems are 100 % automated. Powered by a proprietary AI, Skeyetech drones can conduct automated takeoff, safe navigation based on live calculations functions, and very precise landing. Therefore, the Skeyetech solution requires no pilot training for security guards and no flying skills. The security teams can follow automatic missions or order live missions, directly through their Video Management System.
Type: Octorotor X8
Endurance: 27 min
Max flight speed: 50 km/h
Protection rate: 7mm/h rain resistance
Weather conditions: Wind speed up to 14m/s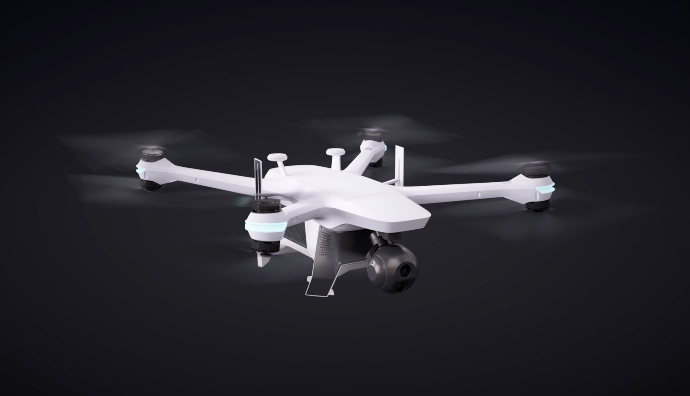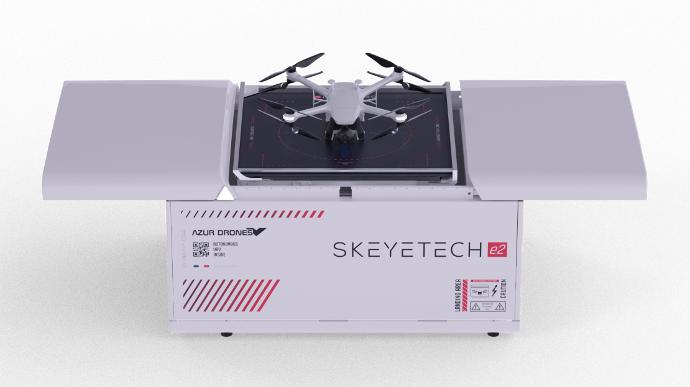 Operational 24/7
Skeyetech connected base recharges and protects the drone between missions. It has been designed to resist to most extreme climatic conditions (IP56) and to deploy the drone in less than 30 seconds. In this way, the Skeyetech drone is ready-to-fly anytime. Moreover, the station ensures safe and latency-free communication between the drone and the VMS for the good execution of each mission. It is also equipped with predictive maintenance software so that it is able to detect any failure risk.
Weight: 375 kg
Size (L x W x H): 2.00 x 1.70 x 1.10 m
Protection rate : IP 65
Deployment time: 35s
Weather station: Anemometer and rain gauge


Reliable and rugged system
Skeyetech autonomous drones feature aeronautical-like reliability and safety levels thanks to double or triple redundancy of vital equipment (engines, electronics, power sources…). The drone is also equipped with a pyrotechnic recovery system and an ultra-performing geo-caging system for aerial safety. Moreover, the communication between the drone and its connected base is encrypted which ensures a secured data transmission. And thanks to VMS integration, the video goes straight inside your security network, without transiting through a cloud. Skeyetech is the result of 3 years of research and development carried out by our experienced staff in France. Azur Drones had to prove the reliability and safety of the product to the French authorities in order to obtain authorization for automated flights on private sites.


High-quality sensors
Embedded with up to 3 simultaneous payloads (1 main frontal payload and 2 side pods), Skeyetech E2 can be multi-configured to clients' needs: surveillance, thermal inspection, photogrammetry, gas & radioactivity detection.
4K camera with x20 zoom

Radiometric thermal camera 640×480
Contact us for more information